Indian Premier League or IPL has successfully completed nine seasons since the beginning of their journey in 2008 and getting more popular everyday. There are many overseas players used to compete here in every season along with local players. However, 10th season of IPL is about to begin in next April, 2017 which will be sponsored by VIVO and so, this time the competition is called VIVO IPL 10. Through this competition, every players used to get heavy amount of money. Some local players really get huge amount in every season like Virat Kohli, Yuvraj Singh, MS Dhoni. Here we present below the top ten highest paid crickets list in IPL history.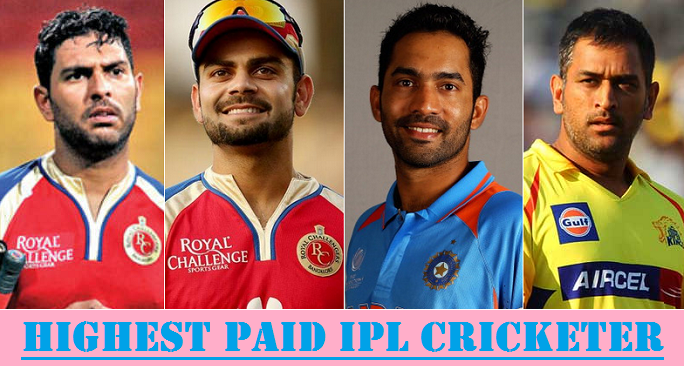 Top 10 Highest paid Cricketers in History
# 1. Yuvraj Singh – INR 16 crore: Yuvraj Singh is still the highest paid cricketer in IPL who was bought by Delhi Daredevils during 2015 IPL auction in order to give almost 16 crore INR for his service. It makes his the highest paid cricketer in IPL ever. Though, he was bought in exchange for such biggest amount, but in the season of 2015 IPL, he could not make justice upon his name. He hardly scored just 248 runs by playing 14 matches for Delhi Daredevils where his average was 19.07. Due to his poor performance, after the season of 2015 end, DD released him from the contract and in last season, he moved to the Sunrisers Hyderabad.
Check Here: ICC World Cup 2019 Live
# 2. Virat Kohli – INR 15 crore: Virat Kohli is the second highest paid cricketer in Indian Premier League where in last season, he was paid almost 15 crore INR by RCB. He was the skipper in the team as well as Indian national team. But in upcoming season, he would probably get more than 15 crore from the club and RCB would not let him leave as well.
# 3. Yuvraj Singh – INR 14 crore: Yuvraj Singh was once regarded as the top player in IPL for several years and he used to get highest amount from different franchise teams. He has captured as the third position as well according to the IPL highest paid cricketer ever for his 14 crore INR price tag. He was bought in exchange for such amount by Royal Challengers Bangalore in 2014 IPL auction. His performance was pretty well and was the second highest scorer in that season after AB de Villiers. But, considering his heavy price tag, RCB released him in following year.
# 4. Dinesh Karthik – INR 12.5 crore: Dinesh Karthik was regarded as one of the major player in IPL and also was one of the highest paid player. He is still standing in 4th position according to the paying rate where he was bought by Delhi Daredevils in 2014 IPL auction for 12.5 crore INR. Though, he could not last his place long enough in Indian national team but also a popular player in IPL. This wicketkeeper batsman scored 325 runs in 2014 IPL which seemed a bit shorter than team expectation and so, he was ruled out from the team just before 2015 IPL.
# 5. MS Dhoni – INR 12.5 crore: MS Dhoni was once the Indian national team skipper but recently left that responsibility. He is the fifth most highest paid cricketer in IPL who was sold to Rising Pune Supergiant in order to get 12.5 crore INR. RPS was the newest contender of IPL in last season which bought the most hard hitter player from CSK. After playing total eight years with Chennai Super Kings, Dhoni moved to the RPS in last season for such huge amount.
# 6. Suresh Raina – INR 12.5 crore: Suresh Raina is a Indian national team player who played his last season IPL with one of the two newest participants Gujarat Lions. Gujarat Lions bought him for 12.5 crore INR which makes him the 6th highest paid player in IPL history.
# 7. Shikhar Dhawan – INR 12.5 crore: Shikhar Dhawan is the seventh highest paid player in IPL due to his12.5 crore INR selling rate. He was bought by Sunrisers Hyderabad in 2016 IPL auction.
# 8. Rohit Sharma – INR 11.5 crore: Rohit Sharma played for Mumbai Indians in last season of Indian Premier League who was bought for 11.5 crore INR. It places him among the highest paid cricketers in IPL.
# 9. Gautam Gambhir – INR 11.04 crore: Gautam Gambhir is one of the key player in Kolkata Knight Riders and playing for them since long. He used to get 11.04 crore INR from KKR in every season which makes him one of the top paid cricketers.
# 10. Dinesh Karthik – INR 10.5 crore: Royal Challengers Bangalore (RCB) gave Dinesh Karthik 10.5 crore INR in 2015 IPL and makes him as one of the top paid player in IPL history.